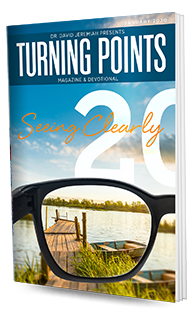 Online articles:
From this month's issue


Read online
2020 Seeing Clearly
Where were you on New Year's Eve, December 31, 1999? If you were like a lot of people all over the world, your New Year's Eve celebrations were overshadowed by a looming fear that the world as we ...
Traveling Light: Strength for the Journey
By David Jeremiah...
I spend a great amount of time traveling—but the novelty of flying on airplanes wore off years ago. Now I consider flying the same way I do driving through Southern California rush hour traff
THIS MONTH'S MAGAZINE RESOURCE
The Focused Life
31-day reading plan for Psalms and Proverbs in the New Living Translation.
Find Turning Point on television and radio
Enter either your area code, zip code, or city and state
Submit